February 14th, 2014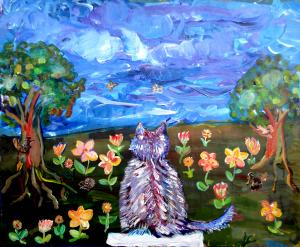 The Art of A.J. Brown
Barbara Brown

The art of A.J. Brown is notable for its childlike naiveté and is seen as not contrived but bold, courageous and honest, arising as it does from her disabilities and her great need as a creative person to communicate, to dream and to imagine a new and better world.

A recent showing of A.J.'s art illustrates her range as a conceptual artist and her belief that a viewer's impressions and insights of any particular painting are more important than the traditional view of art as a precious commodity.

Visitors to 'Between Friends', a co-show at West Vancouver's Silk Purse Gallery with established artist Marie Becker-Pos, wrote at length about their impressions of A.J.'s art: "Super great work, both simple and complex at same time." "I really enjoyed the story telling qualities in both worlds." "I love how you use so many diverse mediums. Congratulations on a successful show." "This is a remarkable show, so well matched! Cats & birds, Argyle garden & fanciful designs. I loved it all."

A.J.'s interest in art began in 1999 when she participated in art therapy classes about the time that her disabilities forced her to retire from paid work. Since then she has studied with the Vancouver School Board (a great experience because they supplied ASL interpreters for every class) and the North Shore night school (a bad experience because no interpreters were provided). Since 2005, A.J. has been mentored by a collective of artists under the guidance of Elizabeth Harris-Nichols at the Bad Dog Studio in North Vancouver.

A.J. first exhibited her work in 2002 and now has had exhibitions in several galleries, including the CityScape Art Space, the Artists Helping Artists in Burnaby, a deaf artists show at Vancouver Community College, the West Vancouver Harmony Arts Festival, with their 'Art Beat,'BC Festival of the Arts, the Deaf Canada
Conference Art Show in Quebec City and the Silk Purse Gallery
She is a member of the Society for Disability Arts and Culture, MediaEyes Production Society, The Famous Open Door Studio Society and the North Vancouver Arts Commission.

A.J. is excited about the growing interest in her art, and we recently met over lunch to discuss her work.

"I began to paint because it was so hard to be employed by other people. I worked for the government and found full-time work and the three-hour commute to be exhausting due to the stress and being CPish [AJ's unique descriptor for her cerebral palsy symptoms, which have worsened over time].
1/2

"I'm inspired by what surrounds me – my cats; Rumbles and Panther, the view of the trees and birds from my window, the work of other artists like Picasso who is so free, the photography of Ansel Adams, a movie perhaps. Sometimes my friends say things. The painting 'The Lazy Melting Cat' was inspired by comments my friend Leanor made about her cat in front on the fireplace.
"I like to work with an image and along the way, some humour comes out. A magazine photo inspired 'The Dog and the Wedding Cake'. I let it sit in my collage book for a long time before I actually made the painting. From the beginning I thought it was funny and poor dog would later be sick. Cats just get into my paintings! I can paint Rumbles shape now without any references!

"The Purple Cat' started with the sky. I used my hands to get all that texture. That's how I get the great feel for detail. Panther was once a participant in my art, with his tail. I just let him swish away on the one I call 'Panther Comedy'. His work is on the eye colour.

"In the past few years I did a lot of volunteer work with a deaf video group called MediaEyes. I acted with Theatre Terrific in a couple of roles. At Gallaudet University [the Washington DC liberal arts university for the deaf and hard of hearing] I wrote modern, classical music and even received a couple of awards for my work.

"The Western Institute for the Deaf and Hard of Hearing recognized my contribution to local deaf culture in 2005, as an example for people in adversity. Their WIDHH Award is given annually and was given that year to three of us. I was cited because they felt I was an inspiration for living.

"Generally, I'm upbeat and positive. I try to find the humour in situations. But painting is my focus now. For recreation, I love to walk. Sharing time with good friends is great. I love to spend time with other artists and more and more I have the opportunity to paint with them.

"In ten years I would like to be living and working in some place hot, like Toller Cranston in Mexico. Painting full-time. It's my plan. Of course, I know changes will happen along the way. I'm hoping for a better future.

"Everyone asks me about my AJB butterfly signature. It's a symbol. You know a butterfly starts as a caterpillar and then turns into a butterfly later. Likewise, for me!

"Advise for budding artists? Keep at it. That's the only way."

To view A.J.'s art go to www.handsandpurrs.ca.