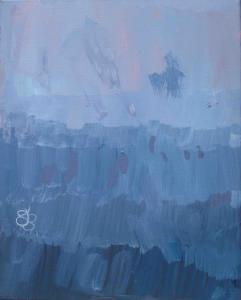 AJ Brown, '90

It takes some artists a lifetime to develop a distinct style and gain renown. For others, fame doesn't come while they are alive to enjoy it. But for AJ Brown, '90, it's taken just 10 years of painting to hone a distinct concept for her work and to draw an adoring fan base.

Brown grew up in Vancouver, B.C., and Winnipeg, Manitoba, Canada. She ventured down to the States in 1985 to attend Gallaudet, studying English literature. No art courses made it onto Brown's class roster during her time at the University, nor for several years after. But she did find friends and mentors in several professors, including Joe Grigely, a retired English faculty member, and Diane Merchant of the former Music Department. "They were genuinely interested in me," Brown recalled. "They were role models for me, as well."

When she returned to Vancouver with her college degree, Brown discovered that as a deaf woman with cerebral palsy, there were barriers in the job market that she had not anticipated. She went back to school, taking music and business courses. She considered becoming a musician, a dancer, and a model. She worked at an income tax agency and at the post office. Ultimately, a muse came into her life that changed everything.

Brown began taking art courses in 1999 and found that painting was the right medium for her. The subjects of her artwork also became clear. Brown enjoyed using her first cat, Panther, and photos of other pets to create her pieces. Her paintings continue to incorporate furry characters. Although she often works from photos, Brown's works employ abstract techniques like bright blocks of color and skewed angles. She calls her style "conceptual," and said that each of the pieces tells a story.

The specific animals vary from painting to painting, sometimes fluffy and black like her current companion, Rumbles, and sometimes a fanciful blue; sometimes seated and obedient, other times prowling and mischievous. Secretly, though, like Marc Chagall, who always added a rooster to his dream-like watercolors of people and animals, Brown sneaks the spirit of a certain character into each painting. "I put my cat in each one," Brown revealed, "and a bit of myself in as well."

Some of her paintings feature a scene familiar to pet owners, like a cat pawing at a running shower, while others imagine a world in which daffodils communicate from their vases. She sometimes incorporates words, like Panther's name in the Pablo Picasso-inspired piece "Panther Comedy's Eye Colour."

"Her themes have expanded and are bold and fun, as it is with her use of color," said friend Lisz Keallen, who met Brown as her interpreter and has been following her work from the start.

In 2004, Brown released her first book. Through poetry, art, and stories, My Voice: A Journey of Creativity, Courage and Hope describes the brushstrokes she has used to become an artist and the challenges she faced as she filled her life's canvas.

As Brown continued to paint and gained self-assurance, she formed the idea for a business. "It started as a natural evolution from my creations," Brown said. "I wanted to develop a business of artwork, paintings, greeting cards, art prints, and my book." In 2005, on the advice of a job counselor from the Western Institute for the Deaf and Hard of Hearing in Vancouver, Brown went to a self-employment program. Within two years, she had learned enough to start her company.

Since starting her business, Hands, Paws, and Purrs, Brown has created a website—handsandpurrs.ca—and wrote a second book, Room in my Heart: A Book of Cats Galore. She has also participated in several art shows. News stories about her have appeared in artistsincanada.com and Contact Magazine, and she has been interviewed on two Vancouver television shows.

In November of 2008, Brown hung her first solo exhibit, "The Ultimate Gift," in Vancouver. "I felt proud, joyous, and like I was 10 feet tall," Brown said. The exhibit drew enthusiastic comments, and several people paid her the compliment of buying her work. "That was the icing on my cake," she said.

In addition to painting, Brown is active in the community. She sits on the board of directors for the Society for Disability Arts and Culture and The Voice of the Cerebral Palsied of Greater Vancouver, and she is involved with two other arts organizations. Brown is proud of what she has accomplished as an artist who happens to be deaf and have cerebral palsy. "A double disability, so to speak," she said, but not a major barrier—not a barrier to creating art, nor to sharing her oeuvre with friends, colleagues, and the community. Indeed, she has participated in more than 20 shows since 2002.

As she looks ahead, Brown wants to continue learning and developing herself and her business. "My plans for the future are to keep loving my cat, keep reaching out, keep learning, and keep painting," she said.

This profile originally appeared in the spring 2009 issue of Gallaudet Today Magazine.