September 12th, 2013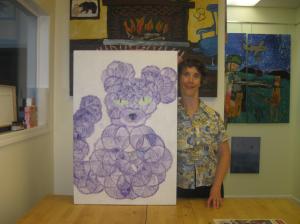 Hello,

I guess I am not sure what I can write in this blog. This is because this website's host only wants posts about art. I'd love to write about my disabilities and how, sometimes it is SO frustrating. Frustrating to relate to very different people from myself. But I think if I put the word, "art" in my posts somewhere, then posts will be accepted.

I just finished my large painting, 24 x 36, Circles Cat, last week. I will post another photograph of it to my cat paintings gallery. Right now, though, I've posted it to my "Ajs Atelier studio gallery". This website is eccentric. It doesn't like punctuation in the titles of my artwork, or the names of galleries or the titles of blog posts. (eyes rolling)

In a few days, I plan to start to edit my video that I took during the process of creating Circles Cat. Circles Cat took me six months to complete. I usually can finish a painting in a month. This is a large painting for me. I am not sure I will do another large painting, unless I'm asked. I enjoyed the process of making this painting. However, Rumbles, my cat / muse / best friend died during the process. So, finishing the painting was very difficult. My approach changed during the process. I could only work on this for maybe a half hour or maybe 15 minutes at a time. This is my most detailed painting thus far. So, to show my process, I thought it would be interesting for some of you to see the work and love I put into my paintings.

I will hold onto this painting for a while. I mean, I'll mark it as not for sale.

Til my next blog post! If you want more current information, I'm more comfortable with posting on my Facebook fan page: https://www.facebook.com/pages/AJ-Brown-Hands-and-Purrs/84194221410

Hugs to all of you.
February 22nd, 2011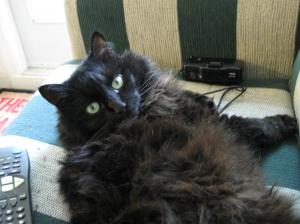 Rumbles is my darling princess. Though sometimes she can be the queen! Cat lovers will understand this attitude. She never fails to remind me when she wants to eat. That is about every two or three hours. She will lead me to the bathroom for brushings. She initiates play. When she wants More attention, she will open the closet door in the bedroom. She's getting older now too. So, she now goes timber at about the same time. She prefers that I'm in bed before her. Probably she likes the bed warmed up from my body heat?
January 5th, 2011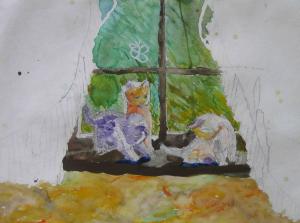 Growing up, I had all sorts of other animals as friends: gerbils, hamsters, bunny rabbits, a guinea pig, a budgie, and a dog. It wasn't until I was adopted by a very active black kitten that my life started to change. There was a twelve year gap where I had no animal friends. I happened to visit the farm of a cousin. My cousin plopped this black kitten into my left hand. I had NO experience with cats before that time. This kitten crawled up my arm to my shoulder and stayed put. I walked around with this kitten on my shoulder for about a half hour. Then it was time to return to my aunt's house. My aunt tried to pick this Panther off, but he dug into my coat. So, I had been adopted! So, I took him home. Over the years, Panther taught me to live in the Present Moment, or at least he started that process! The process of letting go, that is. They say a friend reaches for your paw, but touches your Heart. May Panther Rest In Peace. I have another almost all black cat now, named Rumbles to continue to teach me to live in the Present Moment. Cats are beautiful, graceful, independent, loyal and so very Loving. (Though you have to earn that!) Rumbles lets me know when the phone rings or if there is someone at the door. She is muscular and dainty. She brings gifts of mice, moths and birds. She is my inspiration. So, how can I not have cats as a theme for my artwork?