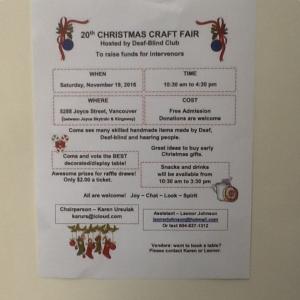 hello everyone,

i will be participating in the deaf blind christmas craft fair.
it is on saturday, november 19, from 10 30 until 4 30.
it's at collingwood neighbourhood house, 5288 joyce street.
free admission, but donations are appreciated, which go to support the deaf blind intervenor program.
snacks and drinks are available from 10 30 to 3 30.
for more information, please contact leonor johnson at leonorjohnson@hotmail.com
or text at 604 837 1312

hope to see you there!